Jimmy McGovern's award-winning series returns to BBC One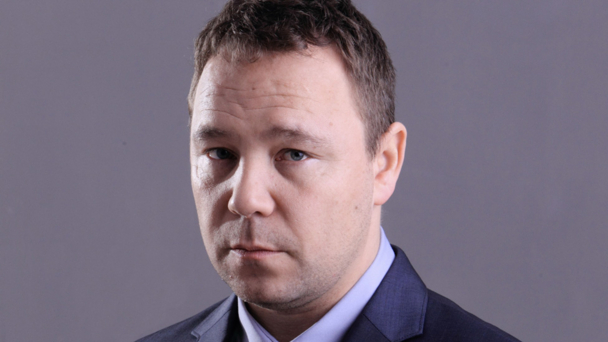 Stephen Graham
Stephen Graham stars alongside Sean Bean in the first episode of Jimmy McGovern's 'Accused' which returns to our screens this Tuesday 14th August at 9pm on BBC One. Continue reading to see what he had to say of his role and why he took it on…
Liverpudlian actor Stephen Graham is without doubt one of the most magnetic and visceral forces to emerge in British film and television in recent times.
Stephen's impact has been felt in seminal work like his racist character Combo in This Is England. Now his growing international profile is set to go stratospheric since Scorsese courted him to play America's most infamous gangster, Al Capone, in the global hit series, Boardwalk Empire.
But never one to forget his roots, Stephen returns to the North West to play Tony, a satellite and aerial engineer, a man seemingly happily married for years until he falls for another man.
Stephen last collaborated on a McGovern drama when he played Shay in The Street, an alcoholic coming-to-terms with finding out he has a son with Down's syndrome, a role which won Stephen an RTS nomination. Now he has been wooed back to play Tony, which is his first gay role.
Known for drawing out the complicated emotional lives of men who you'd be forgiven for dismissing as testosterone-driven thugs and psychopaths in Snatch, Public Enemies and Gangs Of New York, why has Stephen chosen to play an ordinary married man who is burying his true sexuality?
Stephen's answer is full of cheerful enthusiasm so typical of this instantly likeable and energetic actor.
"I've loved Jimmy's work since I was a youngster and he makes an actor's job easy. It's all there – his characters are complicated and his are stories full of the troubles we all face. And, it doesn't matter how bad things get, there's always some Scouse humour!
"Jimmy gets the way working class people speak – it might seem that they're not saying much, but Jimmy shows the poetry in ordinary people.
"I should point out that Jimmy co-wrote this new story with Shaun Duggan, who I've also known for ages too. Shaun's rightly known locally as the 'Bard from Norris Green' (an estate in Liverpool). Working on their beautiful script felt like coming home.
"When Jimmy rang he said to me, 'You'll bring a truth to Tony, get his essential humanity. I want Tony to be an everyman – someone we can all relate to and understand.' You know what I mean… no-one says no to an offer like that!"
But was playing a gay man who isn't out difficult?  "Not really," says Stephen, "It's a story about love which is an emotion everyone feels. You just pile in and you believe in it.
"Being in a love story with Sean Bean is not what I'd ever expected, but acting doesn't get better!
"I've always respected and admired Sean's work. He's a fellow Northerner and a good bloke to jump off the cliff with.
"Acting can be a selfish game but with Sean it wasn't. I'm a team player and so is he.
"From the off we supported each other in roles that don't come that naturally to either of us.
"At the read-through I realised what a big leap playing a transvestite was going to be for Sean.
"I wanted Sean to know I was there for him from the start and I looked deep into his eyes.
"I was willing him to enjoy the experience, have some fun – you're never going to have another chance to dress up like that, put on high heels and cop off with me mate again, I telegraphed to him," laughs Stephen.
"We were doing a scene one day sitting on a sofa and I found myself really gazing at his lovely long legs, everyone on set was going on about them and how good his legs look in white tights.
"I was getting closer to him and leaning in to him and thinking about kissing him and I thought, 'Wooaa… what's going on here Stephen… I'm  getting into this a bit too much –  this isn't the script!
"Everyone on set burst out laughing."
Stephen says there was a lot of good natured fun on set even though the filming schedule was tight.
The crew and the costume art department were there doing their jobs brilliantly every day. We were all part of the same jigsaw puzzle making the pieces fit."
Talking about Tony, Stephen explains how his character deals with feelings of self disgust and anger about his sexual contradictions and how he comes-to-terms with being gay.
"As the story plays out Tony comes to realise that the life he's been leading as a heterosexual man is a lie.
"Tony's mantra is, 'Long time dead.' Later it comes to have a dark significance," says Stephen.
He continues: "Falling for Tracie gets Tony out of denial big time. He admires Tracie's courage for being honest about who she is.
"But Tony never stops loving his wife Karen (Rachel Leskovac). They have a lovely little relationship. Rachel and I only had a few scenes together, but I hope it looks like our characters are in love 'cos they really are!"
Stephen explains the way Tony initially gets around his growing infatuation with Tracie: "Stephen sees Tracie as a woman, not a gay man dressed as a woman."
"Right from the start Sean and I took our parts really seriously and stayed focused to get the right chemistry on screen.
"Sean really immersed himself into Simon and Tracie. We didn't get to spend any time together off set. We were both going home and getting our work heads on ready for the next day.
"There weren't massive speeches between Tracie and Tony but the banter between them has to flow fast and easily. It's really touching.
Stephen reiterates that this is a story about totally genuine love between two men.  Tragically, those heart-felt feelings take a very bad turn and result in a terrible crime of passion, but justice is seen to be done says Stephen.
"A guilty man goes down and an innocent man is set free and in more ways than one," he adds cryptically.
Summing up the experience Stephen is unequivocal: "It was a joy to work with Sean and it was a magnificent experience to play Tony."
Fortunately for audiences this ever versatile actor is busier than ever on both sides of the Atlantic. He is coming up in several new films: Blood, a thriller with Mark Strong, Paul Bettany and Brian Cox, and Good Cop, a new BBC series co-starring Warren Brown, Stephen's great mate who he is 'made up' to be working with for first time since the BBC's acclaimed Iraq drama, Occupation.
And, worldwide viewers can look forward to more of his Al Capone, a part that he's often recognised for these days and most recently in his hometown.
"I was walking down the road the other day and nodded on to a fella and his wife, he said to her: 'That's Al Capone'. I felt about 70 feet tall.
"I'm very, very lucky and very, very blessed to be doing what I'm doing," Stephen concludes.
BBC Press