Zai Bennett announces wealth of new commissions at Edinburgh Television Festival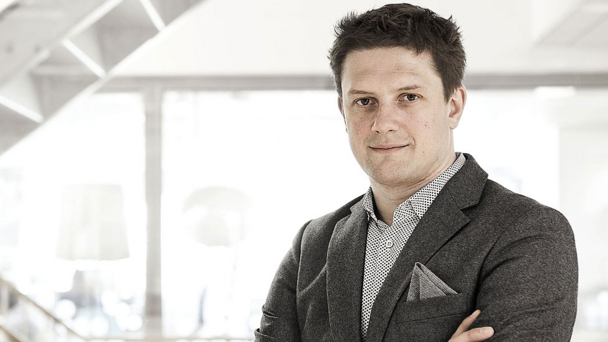 BBC Controller Zai Bennett has announced a raft of new commissions during his session at the Media Guardian Edinburgh International Television Festival, including a season of programmes around the subject of birth, as well as new comedy, entertainment and drama series.
Zai said:  "At BBC Three we're never afraid to try new things and we're the only channel that brings such a rich and diverse offering specifically to young audiences in the UK.
"BBC Three is having an incredible year.  We're proud to have just co-hosted the biggest sporting event on the planet to great critical acclaim and unprecedented viewing figures. Coming out of that we've just launched a season of exciting new programmes on the channel, proving that quality, relevant, meaningful television isn't only the domain of the terrestrial channels.   BBC Three is currently in a fantastic place and I'm delighted to be announcing this raft of new commissions to help us continue on this path. I'm confident there's something for everyone in amongst them."
FACTUAL
Birthing Britain Season
Next Spring, 'Birthing Britain' explores what life is really like for Britain's young parents. Tackling everything from post-natal depression to the role of dads in the delivery room, the provocative BBC Three season will explore what it means to be a young parent in Britain today.
New Kids On The Block (w/t)
'New Kids On The Block' follows four sets of parents as they face the most pressurised experience of their lives: the challenge of becoming first-time parents. The couples will follow first-time parents as they will spend the first months of their parental lives living alongside one another.
The couples will face the highs and lows of becoming new parents, dealing with breastfeeding, nappy changing and a serious lack of sleep in the same apartment building.
4×60-minute, executive produced by Jes Wilkins for Firecracker Films and Fiona Campbell for the BBC.
Prison Dads (working title)
There are almost 10,000 young offenders in Britain and a shocking 25% are fathers or dads-to-be. For all young parents, having a baby is the biggest challenge of their lives. But how do they cope with the added pressure of parenting behind bars?
'Prison Dads' follows 18-21 year olds serving in Glen Parva, the largest Young Offenders Institute in Europe. The series charts the emotional journeys faced by prison dads as they grapple with the demands of parenting while being banged up. How does it feel to be locked in a cell knowing your baby girl will be born any day? How will they cope with meeting their child for the first time on a prison visit?
And behind each prisoner is a string of other people whose lives have changed dramatically. With every prison sentence handed out, a hidden sentence is also bestowed – on baby-mums and their bundles of joy who are left to fend for themselves. They must bring their newborn baby into prison to face sniffer dogs and nappy searches. Some decide to shield their children from the trauma of prison visits – saying instead that daddy's gone to a holiday camp! For all of them, the impact of prison life on their parenting is profound.
With privileged access and surprising stories, Prison Dads is a moving and uplifting film which charts the successes and failures of some of Britain youngest parents bringing up their babies in the most extreme and challenging circumstances.
1×60-minute, executive produced by Dominique Walker for Minnow Films and Fiona Campbell for the BBC.
Stacey Solomon: Teenage Mums (working title)
At age 17, Stacey Solomon became pregnant. The birth of her son should have been one of the happiest times of her life but it became one of the worst when she developed post-natal depression (PND).
"I felt like I was just another unmarried teenager with a baby; another statistic, a kid with a kid, a hopeless case… I went on crying and crying. I felt totally disconnected, as if I was outside of my body. I felt I was a hopeless mother."
Five years on, in her first television documentary, 'X Factor' finalist and singer Stacey sets out to investigate why so many teenage mothers suffer from PND and why there is so little help available to them. She meets young mothers who are going through PND, those who have come out the other side and those mothers whose experiences were so extreme that it led to them harming themselves or their baby. Stacey is determined to understand what causes PND. Is it caused by environment or is it hereditary?
Stacey wants to show that there is life after PND – that support can be found and that, as for her, having gone through the condition with a first child, it may not recur with the second.
1×60-minute, executive produced by Jane Merkin for Exclusive TV and Fiona Campbell for the BBC.
Dads In The Delivery Room (working title)
This year marks the 50th anniversary since a groundbreaking report first suggested that men should be in the delivery room to be with their partners. But a recent report from the Royal College of Midwives suggests that fathers should be encouraged to take on more of a role in maternity care.
BBC Three is taking things a step further, under the guidance of licenced midwives, first time dads-to-be will take up the challenge of becoming super dads in the delivery room.
6×60-minute, executive produced by Elliot Reed for BBC Productions.
We're Having A Baby (working title)
Intimate, poignant and life affirming 'We're Having A Baby' tells the story of young parenthood, as it's never been told before.
Armed with handheld cameras, young people from across the UK will film themselves over six months as they embark on one of the most significant and remarkable journeys of a person's life.
Following the twists and turns of pregnancy all the way to the delivery room, the diverse characters will take us on a journey of personal transformation, unflinching reality and raw emotion.
This film will explore up-close the fundamental issues surrounding pregnancy and childbirth in 21st century Britain – from a completely fresh perspective.
1 x 90-minute, executive produced by Jes Wilkins for Firecracker Films and Charlotte Moore for the BBC.
OTHER FACTUAL
Jack Osbourne: Beating MS
Jack Osbourne, at the age of just 26, has just been diagnosed with Multiple Sclerosis, a degenerative disease of the nervous system, which has left him technically blind in one eye. However, Jack isn't taking this lying down and is determined to find out as much as he can about the disease, its causes, its effects, and search the world for the best treatments.
He wants to know what his future potentially holds – the best possible outcomes, and also stare the worst case scenarios in the eye. He is going to do that by getting out there and meeting the experts, and other people who have the disease, and by understanding their journeys, help make the right decisions to plot his own. And he is going to take us along for every step of that journey.
'Jack Osbourne: Beating MS' will be at turns funny – Jack has a great sense of humour – searing and a warm insight into what it is to be young and have MS. Through him we will get to know one of Britain's most feared diseases, and also learn about the effect serious illness in general has on younger people.
A Schweet/Alleycats co-production, executive produced by Ed Stobart.  BBC executive producer is James Hayes. 1 x 60-minute.
Poor Teens
Following on from the award-winning documentary, Poor Kids, shown last year on BBC One, this two-part series will examine life through the eyes of teenagers who are struggling to make ends meet in the depths of Britain's worst recession. Three girls and three boys from around the UK with different struggles to contend with tell their stories with searing honesty, opening viewers' eyes to the bleakness of some teens' lives.
2×60-minute from True Vision. Brian Woods is the executive producer for True Vision and BBC exec is Fiona Campbell.
DRAMA
In The Flesh
'In The Flesh' is set in a small village in the North of England, post-zombie uprising, as rehabilitated zombies begin to be reintroduced back into society. Now known as PDS Sufferers (Partially Deceased Syndrome), these former zombies have been caught, treated and, armed with their flesh cover-up and special contact lenses are now returning to their friends and families who previously thought them dead.
Our hero is called Kieren Walker, a 17 year old who committed suicide four years' ago when his best mate Rick died in Afghanistan. He didn't leave a note, and is now returning to a village that always rejected him and a family who never got to say goodbye.
Across the three episodes, we follow Kieren as he struggles to cope with fitting back in, with the guilt of what he did in his untreated state, and the sudden reappearance of Rick, a fellow PDS Sufferer. The boy that Kieren thought was dead is alive and the boy Rick thought was alive is dead. Can they be happy a second time round? Can Kieren finally make peace with both his past and his present?  Can humans and PDS sufferers live side by side in this new highly charged and emotionally complicated world?
'In The Flesh' is a 3×60-minute event drama by new writer Dominic Mitchell.  This is his first TV commission and was developed by the BBC Drama Production team in Salford after they read the submissions for 'Northern Voices', a BBC Writersroom competition.
It will be directed by Jonny Campbell (Eric And Ernie, Doctor Who) and produced by Annie Harrison Baxter (The Secret Of Crickley Hall, Treasure Island). Casting is underway and the show will go into production in the autumn.
COMEDY
Boom Town
Following a pilot earlier this year, "real life" sketch show 'Boom Town' has now been commissioned to a series of six half hours. 'Boom Town' will see real people cast in what will be a first for the sketch show genre. Whilst the place itself, Boom Town, will be entirely fictional, the people are real life characters and will appear to live there as a community. The series will be shot using the conventions of a glossy sketch show and fake road signs and carefully selected geography shots will all help create this illusion.
Cast from all over the country, the characters will have their own catchphrases, eccentricities and larger than life personalities, none of which will be scripted for them; they'll be simply playing themselves.
Executive produced by Karl Warner for the BBC and Jonathan Stadlen for Knickerbockerglory. The director is Hannah Springham. 6×30-minute.
Bad Education Series 2
'Bad Education,' the brand new comedy series written by and starring Jack Whitehall as Alfie, the world's worst teacher and a bigger kid than the kids themselves has been commissioned for a second series.  Series one has just started on the channel.  Also starring Mathew Horne (Gavin And Stacey) as Fraser, the school's unhip headmaster, and Sarah Solemani (Him And Her) as Miss Gulliver, the school biology teacher and the apple of Alfie's eye. She cares deeply about the school and the students.
6 x 30-minute produced by Ben Cavey and Pippa Brown at Tiger Aspect.  BBC executive producer is Chris Sussman.
ENTERTAINMENT
Live At The Electric Series 2 & 3
'Live At The Electric' has been re-commissioned for a further two series, hosted by stand-up comedian Russell Kane.  The 8×30-minute series will mix stand-up, sketch, short films and musical comedy.  An Avalon production, executive produced by Richard Allen-Turner, James Taylor and Jon Thoday.  BBC executive producer is Sean Hancock.